DZ108 Molded Case Circuit Breaker
Moulded Case Circuit Breaker | MCCB
Parameters

Details

Size&weight

Related

Video

Message
一、Scope of Application
DZ108 Molded Case Circuit Breaker (motor protection switch, motor circuit protector) applies for the circuit of AC 50Hz or 60Hz, rated voltage of 380V and below, rated current of 0.1A to 63A. DZ108 motor protection switch can protect overload and short-circuit of the motor. But also in the distribution network for protecting overload and short-circuit of circuits and power equipment. Under normal circumstances, DZ108 motor circuit protector can also be used for the circuits of infrequent conversion and the motor of infrequent start and conversion .
DZ108 motor circuit protectors meet the standards: IEC60947-2, GB14048.2.
二、Model and meaning

| | |
| --- | --- |
| Auxiliary contact combination code | Represents the type of auxiliary contact |
| 11 | One normally open and one normally closed |
Note: The auxiliary contact combination code is represented by two digits, the first digit is the number of normally open contacts (NO), and the second digit is the number of normally closed contacts (NC).
| | |
| --- | --- |
| Use category code | Represents the use type |
| 1 | Circuit breakers for distribution protection |
| 2 | Circuit breakers for motor protection |
三、Structural features
DZ108 motor circuit protector has bimetal-type inverse time delay release and electromagnetic instantaneous release. Overload release has temperature compensation device.
There are button operation, knob operation and handle operation, used for the wiring in front of the board, the installation in front of the board. DZ108-20, 32-type circuit breaker with mounting card board, can be directly mounted in the 35mm wide standard rail.
Tripping mechanism uses a structure of fast-making and fast-breaking, so that the DZ108 motor protection switch has current limiting characteristics.
Current setting range of over-current release (see Table 3)
Product model
Rated current(A)
Current setting range of the release(IrA)
DZ108-20
0.16
0~0.16
0.25
0.16~0.25
0.4
0.25~0.4
0.63
0.4~0.63
1
0.63~1
1.6
1~1.6
2.5
1.6~2.5
3.2
2~3.2
4
2.5~4
5
3.2~5
6.3
4~6.3
8
5~8
10
6.3~10
12.5
8~12.5
16
10~16
20
14~20
DZ108-32
1.6
1~1.6
2.5
1.6~2.5
4
2.5~4
6.3
4~6.3
10
6.3~10
12.5
8~12.5
16
10~16
20
12.5~20
25
16~25
32
22~32
DZ108-63
10
6.3~10
16
10~16
25
16~25
32
22~32
40
28~40
50
36~50
63
45~63
四、Main technical parameters
Model
DZ108-20
DZ108-32
DZ108-63
Rated insulation voltage Ui(V)
660
660
660
Pole
3
3
3
Rated short-circuit breaking capacity Icu(kA)






(Valid values)o-t-co-t-co






380V kA/cosφ
1.5/0.95
10/0.5
22/0.25
Rated short-circuit making capacity Icm(kA)






380V Icm/cosφ
2.2/0.95
17/0.5
46/0.25
Max power of control motor AC-3(kW)






220V
5.5
9
18
380V
10
16
32
Auxiliary contact






Rated heating current(A)
6
6
6
AC-15 Rated operating voltage(V)
220
380
220
380
220
380
AC-15Rated operating current(A)
1.4
0.8
1.4
0.8
1.4
0.8
AC-15Rated making capacity(A)
1.34
8
14
8
14
8
AC-15Rated breaking capacity(A)
14
8
14
8
14
8
Type
Test current
Test time
Initial state
Ambient air temperature
Distribution protection type
1.05In
Non tripping within 1h
Cold
30℃±2℃
1.3In
Tripping within 1h
1h within the hot
10In
<0.2s Tripping
Cold
Any suitable temperature
Motor protection type
1.05In
Non tripping within 2h
Cold
20℃±2℃
1.2In
Tripping within 2h
Hot
1.5In
<0.2min Tripping

The thermal balance

is reached at the

setting current

7.2n
2s < tp ≤10s
Cold
Any suitable temperature
12In
<0.2s Tripping
Cold
五、Outline and installation dimension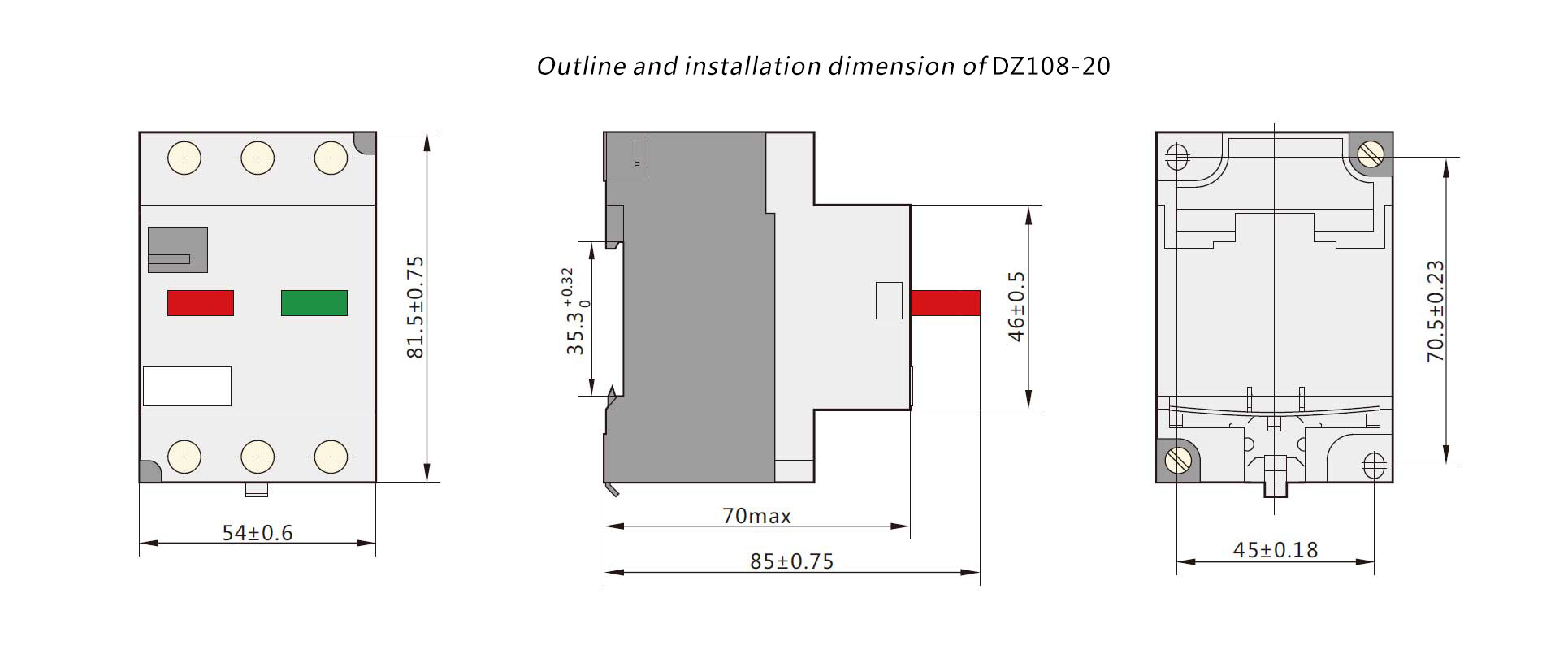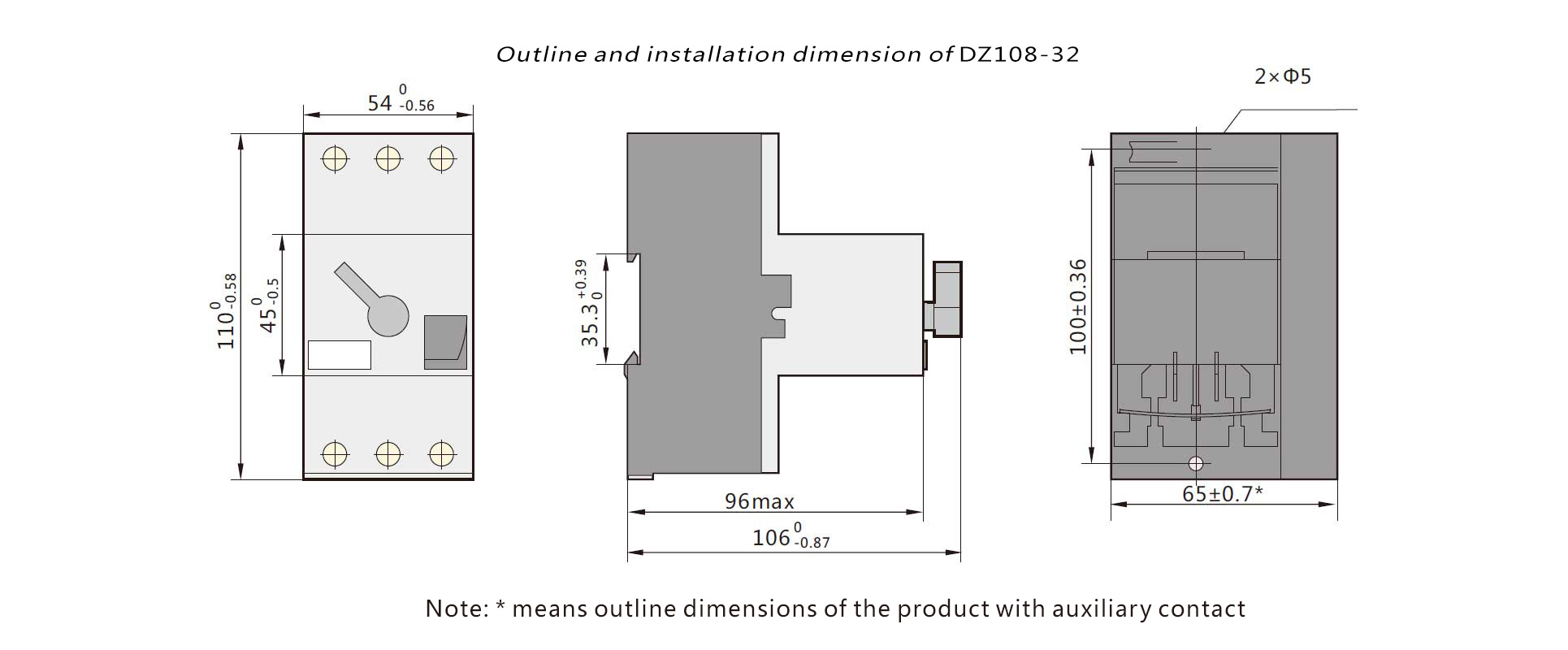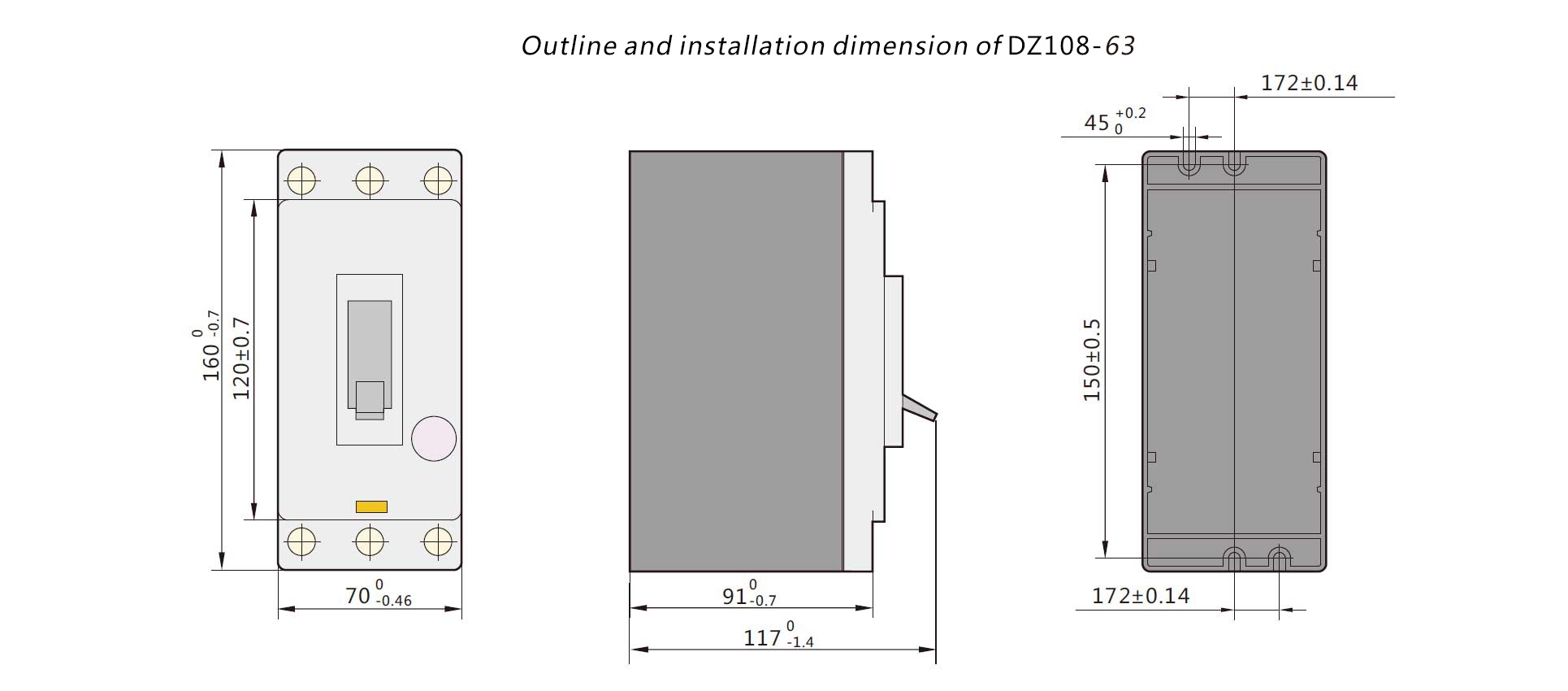 Keywords: DZ108,motor protection switch,motor circuit protector
view and download
| | | | | |
| --- | --- | --- | --- | --- |
| File name(Click to view) | File type | file size | View times | Click to download |
Product related news
| | | | | |
| --- | --- | --- | --- | --- |
| News title | Promulgator | Release time | View times | Click to read |