TXB7S5-63 Circuit Breaker (Self-reclosing Controllable MCBs)
Miniature Circuit Breaker | MCB
Parameters

Details

Size&weight

Related

Video

Message
Scope of Application
Prepaid meters as intelligent terminal of intelligent grid, is gradually into our lives. The existing meter dedicated circuit breakers, can only achieve automatic power-off after arrears, need manual transmission after payment, for this, the power grid company has invested a huge manpower cost for maintenance work, but still can not solve the problems of timeliness of charging, greatly reducing the customer's electricity experience.
TXB7S5-63 Miniature Circuit Breaker, is a new meter dedicated MCB switch with automatic recovery circuit researched and developed independently by TAIXI, not only achieve automatic power-off after arrears, automatic power-on after payment, but also to achieve the effective protection of the line and terminal equipment, meanwhile feedback the state signal of closing and opening.
TXB7S5-63 automatic Circuit Breaker (MCB switch) meets standards of SGCC "Technical specification of watt-hour meter with external load switch" and IEC60898, GB10963, GB14048.2, reaches the international advanced technology level.
Model and meaning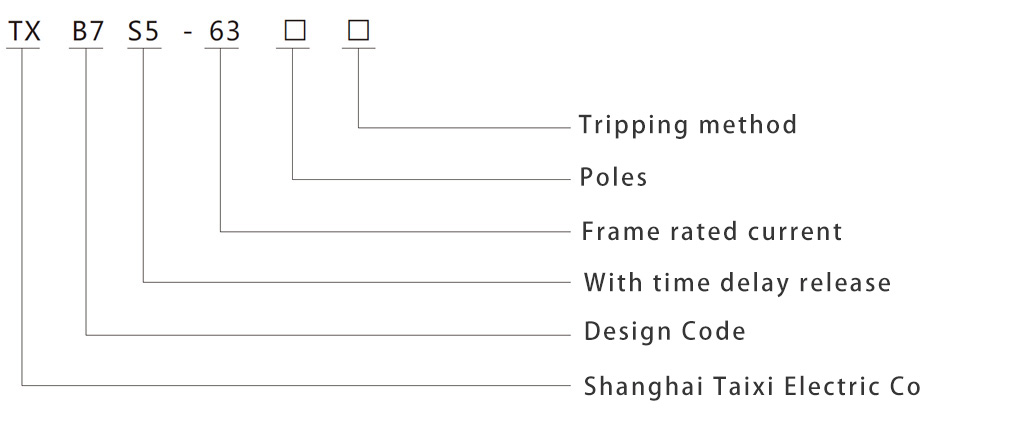 Product features of TXB7S5-63 automatic Circuit Breaker (MCB switch)
»Compact size: single phase 1P+N (2P), width 72mm; three-phase four-wire 3P+N (4P), width 108mm
»Quick action: matching miniature circuit breakers, quick action, response time <0.1s
»Good synchronization: the integrated design of mechanism and circuit breaker, through opening-closing of the built-in relay device to make and break circuit
»Powerful function: with functions of automatic switch, tripping self-keeping after arrears
»Stable and reliable: mechanical life up to 10,000 times
»Ultra-low power consumption: operating mechanism power consumption ≤ 0.05W
»Case material: all use flame-retardant case material, the internal use copper fittings
»Adaptable: suitable for environment of -25℃~70℃
»Optional functions: leakage protection

Main technical parameters of TXB7S5-63 automatic Circuit Breaker (MCB switch)
Function description
1P+N(2P)
3P+N(4P)
Automatic opening-closing
●
●
Tripping keeping after arrears
●
●
Level control, level feedback
●
●
On/Off State indication
●
●
Automatic switchover
●
●
Frame rated current (A)
63A
Rated current
6A,10A,16A,20A,25A,32A,40A,50A,63A
Rated operating voltage (Un)
AC230V
AC400V
Control loop power supply voltage
AC230
AC230V
Overload protection tripping characteristic
C-type(5In<I≤10 In)
Rated short circuit breaking capacity
6KA
Automaticity recovery time
≤3s
stand-by power consumption
Current of control line<1mA, Leakage current of phase line<0.2mA
Power on delay time
td≥4s (Power on to arrears signal confirmed)
Dielectric strength
2500VAC, 1 minute
Withstand voltage level (Uimp)
6KV
Mechanical (Electrical) life
10000次(6000 times)
Action time
Opening≤0.3s, closing≤0.5s (no delay)
Ambient temperature
-25℃~+70℃
Protection level
Ip20
Optional length of control line
30CM/50CM/80CM/100CM
Width
72mm
108mm
Outline and installation dimensions

Keywords: automatic Circuit Breaker ,MCB switch
view and download
| | | | | |
| --- | --- | --- | --- | --- |
| File name(Click to view) | File type | file size | View times | Click to download |
Product related news
| | | | | |
| --- | --- | --- | --- | --- |
| News title | Promulgator | Release time | View times | Click to read |