TXB7S-63 Circuit Breaker (Controllable MCBs)
Miniature Circuit Breaker | MCB
Parameters

Details

Size&weight

Related

Video

Message
Scope of Application
TXB7S-63 Miniature Circuit Breaker with shunt trip Circuit Breaker (AC Circuit Breaker) for IC card prepaid meters, has function of intelligent shunt trip, used for the circuit of AC 50Hz (or 60Hz), rated operating voltage 230 / 400V, rated current 63A, remote control or automatic control signal breaking for the circuit, at the same time, overload and short circuit protection for the circuit, also suitable for infrequent transfer between circuits. At present, widely used in IC card prepaid watt-hour meter to control the line on-off.
TXB7S-63 with shunt trip Circuit Breaker (AC Circuit Breaker) meets standards of IEC60898, GB10963, GB14048.2, reach advanced level of international.
Model and meaning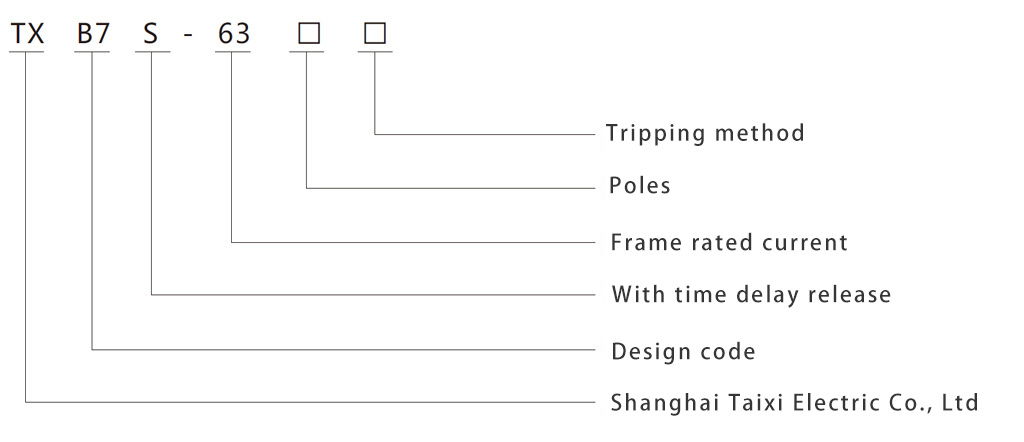 Product Features
TXB7S-63 with shunt trip Circuit Breaker (AC Circuit Breaker) consists of the TXB7N MCB and intelligent module shunt release. There are instantaneous tripping and delayed tripping in two ways.
The case is made of new plastic of flame retardant type, high-strength and arc-resistant, so the impact resistance and flame retardant performance is good.
Contact system uses electric repulsion mechanism, greatly improving the breaking capacity of circuit breakers, which make circuit breakers more complete and reliable, L pole has electromagnetic protection and thermal protection, N pole has electromagnetic protection, S pole has shunt trip function.
Shunt trip coil with fully automatic winding is subjected to the voltage test of 3300 V (1.2 / 50 μs) to meet the insulation class Ⅲ of CEI 28-6.
Life of shunt trip is more than 4000 times.
Shunt trip coil has a function of current limiting, ensure that the current absorbed by the coil in the shunt trip circuit in a reliable safety value, to effectively prevent the coil burning out in actual use.
Shunt trip Circuit Breaker is designed as a pole, high anti-interference ability, can effectively prevent the shunt release malfunctioning with the electromagnetic interference and thermal interference.
The pre-paid meter circuit breaker (AC Circuit Breaker) is designed for single-phase, three-phase four-wire IC card energy meter to use, it has functions of inverse time overload protection and short circuit protection, it can receive IC card energy meter signal to cut off circuit, to prevent users from arrears , has been widely used in the national grid "one family one meter" transformation project.
Structural features
TXB7S-63 Miniature Circuit Breaker for Pre-paid Meter Circuit Breaker's(Delayed Shunt Trip Circuit Breaker) operating voltage is any value of 70% to 110%, the signal line applies the control voltage to the AC Circuit Breaker and intelligent shunt release pole, this is the signal voltage (can be provided by the remote control circuit or IC card meter) and then push the breaker handle to the closed position. When the need for remote control (or IC card meter fee arrears), it can break control voltage through the control system, circuit breakers should be reliable break in 0.5s ≤ t ≤ 2s, while the AC Circuit Breaker also has short-circuit and overload protection.
Rated current
6A、10A、16A、20A、25A、32A、40A、50A、63A
Pole
1P+N / 3P+N
Rated operating voltage
1P+N 230V
3P+N 400V
Frequency
50Hz
Operating voltage range
65%~120% Un
Breaking capacity
6KA / 4.5KA
Tripping curve
B、C、D
Delay action time (intelligent shunt trip time)
0.5s~2s
Mechanical life
10000次
Electrical life
2000次
Current Limit Level
3
Impulse withstand voltage
6kV
Surroundings
-5℃~40℃
Wiring
Tunnel type terminal block
Installation
Up and down locking clamp, more convenient installation
Frame rated current Inm(A)
Rated current In(A)
Pole
Rated voltage Ue(V)
Rated short - circuit breaking capacity Icn(A)
63
6,10,16,20
25,32,40
1P+N
230
6000
3P+N
400
50,63
1P+N
230
4500
3P+N
400
Test
Model
Test current

Initial state

Set time

Prosrective result

a
B、C、D
1.13In
Cold
t≤1h
Non tripping
b
B、C、D
1.45In
After Test A

t<1h
Tripping
c
B、C、D
2.55In
Cold
1s<t<60s(In≤32A)
1s<t<120s(In>32A)
Tripping
d
B
3In
Cold
t≤0.1s
Tripping
C
5In
D
10In
e
B
5In
Cold
t<0.1s
Non tripping
C
10In
D
20In
Wiring: 25mm² and below for wire connection, wiring method is screws to tighten the wiring, the torque is 2.0N · m.
| | |
| --- | --- |
| Rated current In(A) | Copper conductor nominal cross-sectional area(mm²) |
| 1~6 | 1 |
| 10 | 1.5 |
| 16~20 | 2.5 |
| 25 | 4 |
| 32 | 6 |
| 40~50 | 10 |
| 63 | 16 |
Outline and installation dimensions

Keywords: shunt trip Circuit Breaker,AC Circuit Breaker
view and download
| | | | | |
| --- | --- | --- | --- | --- |
| File name(Click to view) | File type | file size | View times | Click to download |
Product related news
| | | | | |
| --- | --- | --- | --- | --- |
| News title | Promulgator | Release time | View times | Click to read |