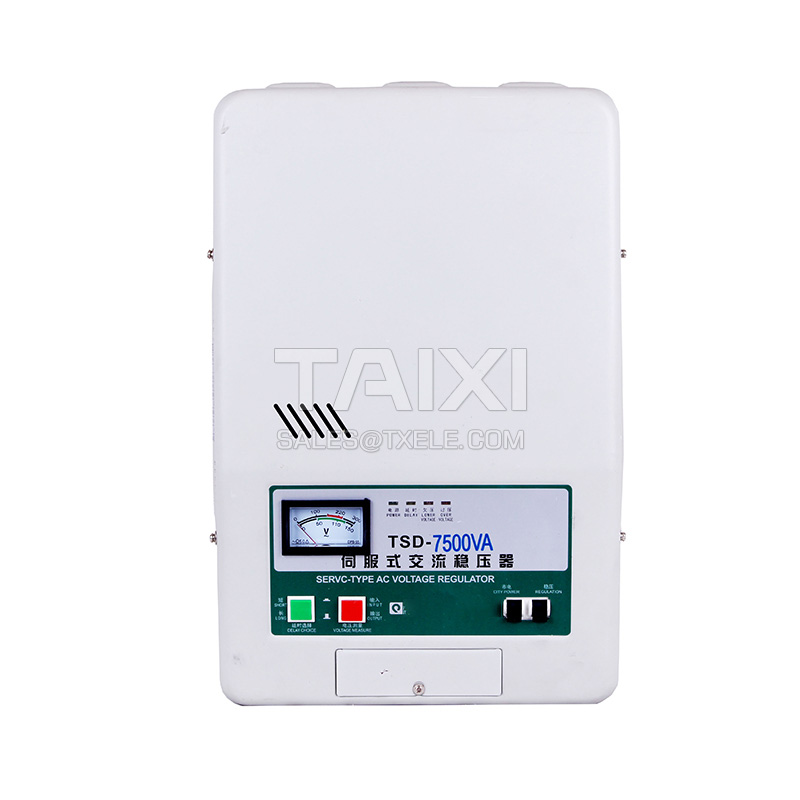 TSD Servo Voltage Stabilizer
Voltage Stabilizer
Parameters

Details

Size&weight

Related

Video

Message
Product Overview
TSD Wall Mounted
Automatic Servo Voltage Stabilizer
are perfectly designed on the basis of the
SVC Voltage Stabilizer
, possessing the protection against time-delay, over voltage and under voltage and the free switching between the electric supply and voltage stabilization, etc. It adopts the hanging type installation, which can effectively save and make use of the space. The soft overall color of streamline gives people a bright and new look. It can provide high-precision and stable power supply to computers, copiers, SPC telephone exchanges, industrial precision electrical appliances, medical equipment, household appliances and other equipment.
Wall Mounted Voltage Stabilizer
Meets the standard: Q/ZT78
TAIXI is a professional
Servo Voltage Stabilizer Manufacturer
Model and Meaning

Normal working conditions and installation conditions
Wall Mounted Voltage Stabilizer Ambient temperature: -5°C~+40°C.
Automatic Servo Voltage Stabilizer Relative humidity: no more than 90%, and the temperature is +20°C).
Automatic Servo Voltage Stabilizer Altitude: not exceed 2000m.
Wall Mounted Voltage Stabilizer Installation: The installation environment should be well-ventilated, without obvious pollution, corrosive gas, dust, combustibles, and combustible gas.
Product Feature
The stabilized voltage supply can work uninterruptedly, with high efficiency, small waveform distortion, stable voltage regulation process, no instantaneous power loss, and can ensure the safe and normal use of all kinds of high-grade electrical appliances and home computers with memory function, and the output voltage regulation accuracy is 220V±4%;
Wide input voltage range, strong load characteristics;
Full-featured, with overvoltage, undervoltage indication and protection (only for 220V output), long delay, short delay function;
DZ47 high breaking
miniature circuit breakers
provides good protection against short circuits;
Rated output voltage has 220V and 110V;
Wall Mounted Voltage Stabilizer are input and output voltage indications.
Main parameters and technical performance
| | | | |
| --- | --- | --- | --- |
| Input voltage | 150V~250V | Output voltage | 220V±3% 110V±3% |
| 220V±3% 110V±3% | >7.5V/S | Temperature rise | <60°C |
| Overvoltage | 246V±4 | Undervoltage | 184V±4 |
| Relative humidity | <90% | Ambient temperature | -10°C~+40°C |
| Frequency | 50Hz/60Hz | Negative power factor | 0.8 |
| Waveform distortion | Non-lack fidelity waveform | Insulation resistance | >5MΩ |
lnstallation Dimension
Model
Rated capacity
Size (mm)
WxDxH
Net weight (kg)
lnstallation Dimension (mm)
Mounting hole (mm)
TSD-3K
3
30x25x15
27
135±3
TSD-5K
5
40x28x17
32
TSD-8K
8
40x28x17
40
TSD-10K
10
40x28x17
50
Order Information
In case of selection, the stabilized power supply is reasonably selected according to the rated power, the starting surge current, the inductive or capacitive load of the electrical equipment. The Wall Mounted Voltage Stabilizer output capacity should have sufficient allowance, especially when the impact load is selected, and the specific safety factor is shown in Table.
| | | | |
| --- | --- | --- | --- |
| Load property | Device | Safety factor | Voltage stabilizer capacity |
| Pure resistance load | Incandescent lamps, resistance wires, electric furnaces and other equipments | 1.1~1.3 | ≥1.1~1.3 times total load power |
| Inductive or capacitive load | Fluorescent lamps, fans, pumps, air conditioners, fridges, etc. | 2.5~3 | ≥2.5~3 times total load power |
When the input voltage is lower than 198V, the output capacity will be reduced, so to reduce the load and derating use to avoid overload, the specific characteristics shown in Figure; when using 110V, 220V output or simultaneous use, the maximum total output current must not exceed the rated output current. When using 110V output, the max capacity is only half of the rated capacity. When the input voltage is lower than 198V, Wall Mounted Voltage Stabilizer should also be used in proportion to the curve in Figure to avoid overload.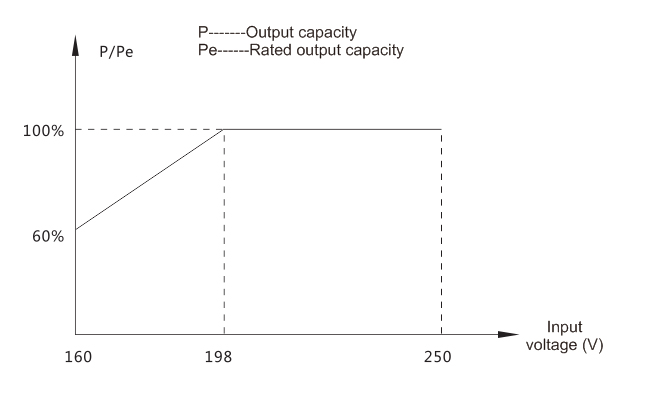 view and download
| | | | | |
| --- | --- | --- | --- | --- |
| File name(Click to view) | File type | file size | View times | Click to download |
Product related news
| | | | | |
| --- | --- | --- | --- | --- |
| News title | Promulgator | Release time | View times | Click to read |