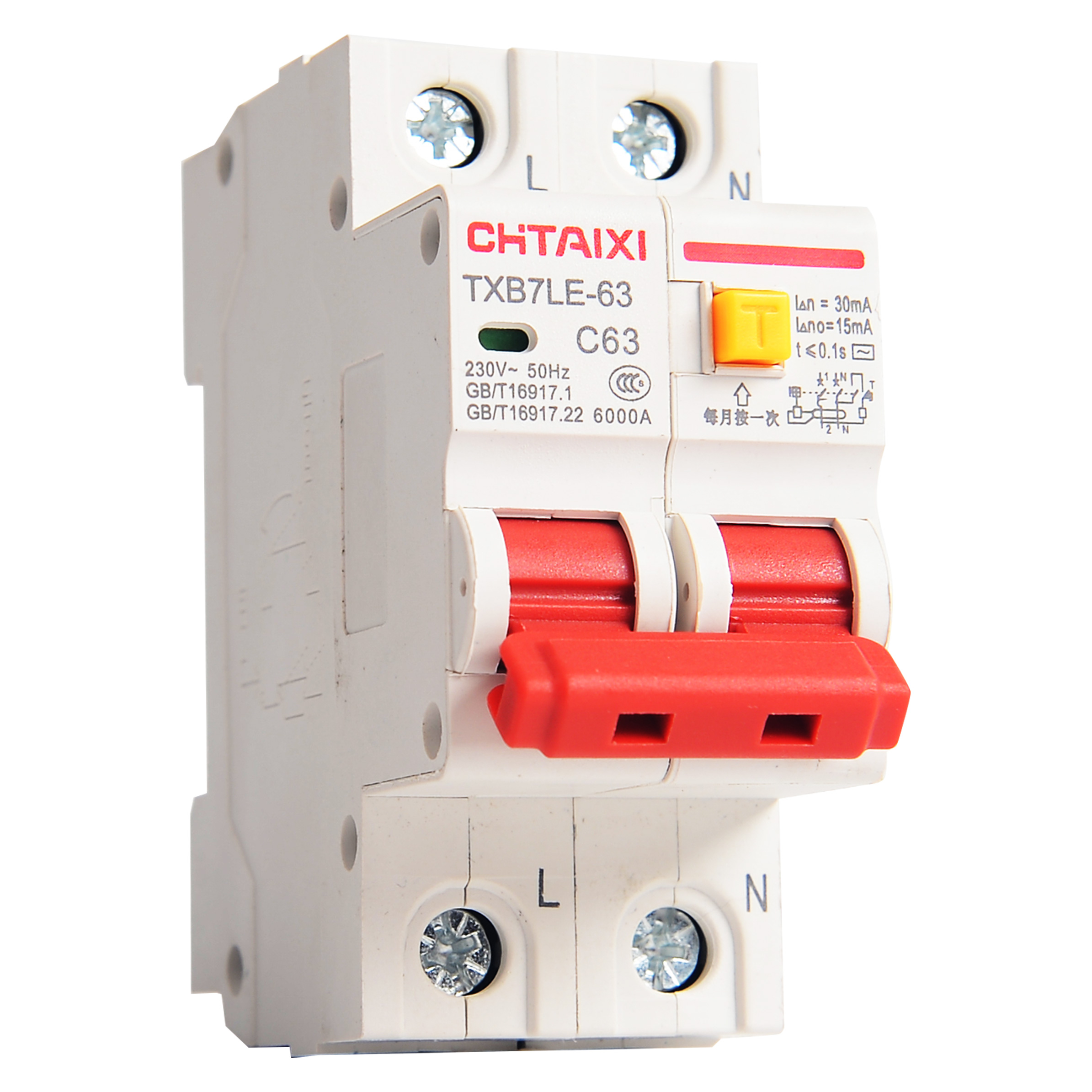 TXB7SLE RCBO Residual Current Operated Circuit Breaker
Residual Current Circuit Breaker | RCCB-RCBO
Parameters

Details

Size&weight

Related

Video

Message
SCOPE OF APPLICATION
The new self-developed leakage circuit breaker of TXB7sLE is a very narrow and small leakage circuit breaker. The width of the conventional 2P leakage circuit breaker is 81MM wide. Our product is only 36MM wide, which reduces the size of the distribution box and saves space and money. This product is suitable for AC 50/60Hz, rated working voltage 230V or 110V, rated current 10A-63A, mainly composed of zero-sequence current transformer, electronic component board, leakage integrated circuit board, small circuit breaker with overload , Small circuit breakers with short circuit and leakage protection functions can provide protection against fires caused by ground faults that persist when overcurrent protection devices do not operate. The leakage protection of TXB7sLE leakage circuit breaker is divided into AC type and A type; AC type is a circuit breaker for conventional protection of household leakage circuit; A type leakage protection includes the function of AC type leakage protection, and also has pulsating DC (is some through AC to DC). Equipment such as mobile phone chargers, electric vehicle chargers, switching power supplies and other equipment) leakage protection function; Closable leakage circuit breakers are more and more popular in the low-voltage power distribution system by the State Grid, and leakage circuit breakers must be installed in the power security inspection. However, in some environments, leakage protection is often consistent because of humidity or in humid environments such as basements. Jump turns, then this product can turn off the leakage protection function can play the function of overload protection and short circuit protection, and can pass the power inspection at the same time.


TEMPERATURE COMPENSATION
When the ambient temperature is not a benchmark of 30 degrees , the reference correction factor is as folows .
| | | | | | | | | | |
| --- | --- | --- | --- | --- | --- | --- | --- | --- | --- |
| Ambient Temperature | -20℃ | -10℃ | 0℃ | 10℃ | 20℃ | 30℃ | 40℃ | 50℃ | 60℃ |
| Current Correction Coefficient | 1.25 | 1.20 | 1.15 | 1.10 | 1.05 | 1.00 | 0.95 | ..90 | 0.85 |
MAIN TECHNICAL PARAMETERS
| | |
| --- | --- |
| Rated Current | 6A,10A,16A,20A,25A,32A,40A,50A,63A |
| Poles | 1P+N |
| Rated Voltage Ue | AC110V or ac220V |
| Insulation Volage Ui | 500V |
| Rated Breaking Capacity | 4500A |
| Rated Impulse Withstand Voltage Uimp | 4kV |
| Dielectric Test Voltage At And Ind. Freq.For 1min | 2kV |
| Protection Class | IP20 |
| Thermo-Magnetic Release Characteristic | C-Curve (5In ~ 10In) |
| Electrical Life | 4000 |
| Mechanical Life | 20000 |
| Installation | 35MM DIN Rail Mount or M3 Screw Side Mount |
| Reference Temperature For Setting Of Thermal Eement | 30°C |
| Ambient Temperature | -5°C~40°C |
| Terminal Connection Type | Phillips Screws |
| Adapter Cable | 6-63A 1-25MM²;16-3AWG |
| Tightening Torque | 3.0N.M |
| Tightening Torque | 3.0N.M |


TRIPPING CHARACTERISTIC CURVE -- C TYPE

| | |
| --- | --- |
| Rated current (A) | Minimum Adapter Copper Wire |
| 6 | 1 MM2/17AWG |
| 10 | 1.5 MM2/16AWG |
| 16 | 1.5 MM2/16AWG |
| 25 | 2.5 MM2/13AWG |
| 32 | 4 Mm2/11AWG |
| 40 | 6 Mm2/10AWG |
| 50 | 10 MM2/7AWG |
| 63 | 16 MM2/7AWG |


OUTLINE AND INSTALLATION DIMENSIONS

view and download
| | | | | |
| --- | --- | --- | --- | --- |
| File name(Click to view) | File type | file size | View times | Click to download |
Product related news
| | | | | |
| --- | --- | --- | --- | --- |
| News title | Promulgator | Release time | View times | Click to read |