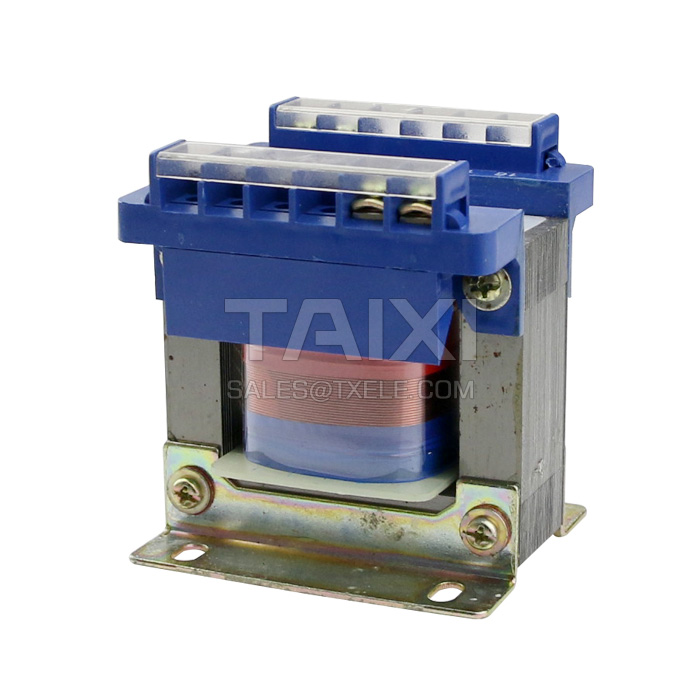 BK Industrial Control Transformers
Transformer
Parameters

Details

Size&weight

Related

Video

Message
Scope of Application
BK
Industrial Control Transformer
is suitable for the AC circuit of 50Hz/60Hz, which is used as the control power, local lighting and indicator light power supply for general electrical apparatus in machine tools and machinery.
The
Industrial Control Transformer
meets the standard: JB/T9646 standard.
Model and meaning

Normal working conditions and installation conditions
The Industrial Control Transformer can work reliably under the following environmental conditions.
The altitude does not exceed 2000m.
The ambient air temperature upper limit is 40°C, and the lower limit is -5°C. (When the user needs to use it in the environment higher than 40°C or lower than -5°C, special instructions and special custom are required when ordering.)
When the max temperature is 40°C, the relative humidity of the air does not exceed 50%. At relatively low temperatures, higher relative humidity may be allowed, for example, 90% at 20°C. Special measures should be taken for the occasional condensation produced due to temperature changes.
In the ambient air, there is no no corrosive metal or harmful gas or dust that destroys insulation; In the use, Industrial Control Transformers must not be corroded by water, rain, or snow.
The power supply voltage is similar to the sine wave.
Structural features
BK Industrial Control Transformer is based on the control of transformer at home and abroad. It has further absorbed the advantages of similar products at home and abroad for many years. It is made with advanced technology and rigorous design, and optimizes the connection terminals of foreign advanced methods. Industrial Control Transformer has good performance, reliable work, low energy consumption, small volume, safe wiring and wide applicability, etc. It can work for a long time under rated load. It is an ideal variable voltage power supply.
Specification
Industrial Control Transformer Rated capacity: 25VA, 50VA, 100VA, 150VA, 200VA, 250VA, 300VA, 400VA, 500VA, 700VA, 1000VA, 1500VA, 2000VA, 3000VA, 5000VA.
Industrial Control Transformer Primary voltage: 220V, 380V or according to user requirements;
Industrial Control Transformer Secondary voltage: 6.3V, 12V, 24V, 36V, 110V, 127V, 220V, 380V or according to user requirements.

Model
Primary voltage (V)
Secondary voltage (V)
Installation dimension
(A*C)
Mounting hole
(K*J)
Outline dimension
(B*D*E)max
BK-25
220/380
or according to user needs
6/12/24/36/110/127/220/380
or according to user needs
62.5*50
5*8
80*83*82
BK-50
70*58
6*10
85*88*84
BK-100
85*64
6*10
103*93*99
BK-150
85*72
6*10
103*100*99
BK-200
85*83
6*10
103*112*99
BK-250
100*80
8*11
130*120*150
BK-300
100*84
8*11
130*125*150
BK-400
110*114
8*11
148*155*153
BK-500
110*114
8*11
148*155*153
BK-700
125*103
8*11
173*158*174
BK-1000
125*123
8*11
173*186*174
BK-1500
160*120
10*20
265*195*270
BK-2000
160*130
10*20
265*205*280
BK-3000
160*140
10*20
265*220*305
BK-4000
190*160
10*20
315*240*305
BK-5000
190*180
10*20
315*260*305
BK-6000
220*175
10*20
360*320*390
BK-7000
220*175
10*20
360*320*390
BK-10K
220*215
10*20
360*360*390
BK-15K
280*218
10*20
410*380*460
BK-20K
280*230
10*20
410*405*490
BK-25K
310*300
12.5*25
560*420*600
BK-30K
310*300
12.5*25
560*420*600
BK-40K
310*300
12.5*25
570*460*660
BK-50K
310*310
12.5*25
610*460*630
BK-60K
310*310
12.5*25
640*480*630
BK-80K
420*330
12.5*25
670*500*690
BK-100K
420*350
12.5*25
730*520*750
view and download
| | | | | |
| --- | --- | --- | --- | --- |
| File name(Click to view) | File type | file size | View times | Click to download |
Product related news
| | | | | |
| --- | --- | --- | --- | --- |
| News title | Promulgator | Release time | View times | Click to read |