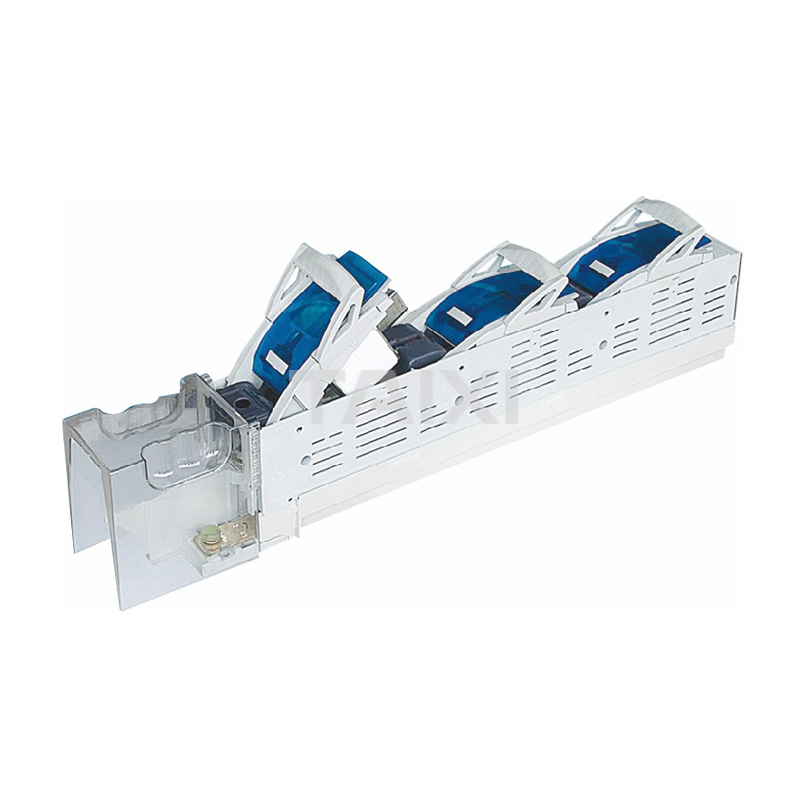 HG2B In-line Fuse Switch Disconnector
Isolation Switch
Parameters

Details

Size&weight

Related

Video

Message
Scope of application
HG2B In-line Fuse Switch Disconnector is suitable for AC rated voltage 660V and below, AC 160A~630A, rated AC frequency 50Hz. With load operation, the first current transformer and bar switch integration, with the advantages of convenient adjustment of upper-lower inlet-outlet, three-phase separate breaking, three phase simultaneous breaking and others, widely used in complete sets of products and imported box substation.
In the distribution system of industrial enterprises, it is mainly used in distribution circuits and motor circuits with high short-circuit currents, which can be used to manually switch on and off the circuit infrequently and isolate the power supply, and can protect the AC circuit from short circuit. The In-line Fuse Switch Disconnector is not suitable for starting and disconnecting a single motor switch.
Meet the standards: GB14048.3, IEC60947-3.
Model and meaning
Normal working conditions and installation conditions
1. The ambient air temperature is not higher than +40°C and not lower than -5°C.
2. The elevation of the installation site does not exceed 2000m.
3. Humidity: When the maximum temperature is +40°C, the relative humidity of the air does not exceed 50%, and higher relative humidity may be allowed at lower temperatures, for example, 90% at 20°C. Special measures should be taken for the occasional condensation caused by temperature changes.
4. The pollution level of the surrounding environment is 3.
5. The In-line Fuse Switch Disconnector shall be installed in a place where there is no significant shaking, shock and vibration and there is no rain and snow. At the same time, there shall be no dangerous medium for explosion at the installation site, and there shall be no gas and dust in the medium that can corrode metal and destroy insulation.
Product Features
■ First integration of current transformer and fuse switch
■ With knife edge and arc extinguishing device, it is safe to operate
■ Isolated blade, NT/NH series and common semiconductor melt core (quick melt) can be added
■ Fuse monitor and signal switch can be added
■ Used as main switch, instantaneous breaking capacity up to 50-100kA
■ DNH5 strip fuse type isolation switch with unique process technology
■ The In-line Fuse Switch Disconnector is beautiful in appearance, novel and concise, and conforms to the IEC60947-3.GB14048.3 standard.
Structure and characteristics
The In-line Fuse Switch Disconnector consists of a base, a pedestal, a cover, a handle, a protective cover and others. The NT series fuse link is mounted on the cover and used as a movable contact blade; The handle rotates along the fulcrum of the base in fan-shaped, and the cover is broken and closed together with the fuse. There is a large space distance and clear breaking point to meet the requirements of the isolation switch. The pedestal and the base can be easily disassembled, so that the pedestal is installed on the bus bar safely and reliably. The base is equipped with an arc extinguishing grid to ensure the breaking capacity of the switch.
Main technical parameters
HG2B-160/100
HG2B-250
HG2B-400
HG2B-630
Electrical parameters
With fuse
Rated operational voltage
Ue
V
AC380V
AC380V
AC380V
AC380V
Rated operational current
A
160
250
400
630
Conventional thermal current
A
160
250
400
630
Rated limited short-circuit current
KA
50
50
50
50
Rated insulation voltage
V
690
690
690
690
Rated impulse withstand voltage
KV
8
8
8
8
Use grade
AC-21B
AC-21B
AC-21B
AC-21B
With isolation knife
Rated operational voltage
Ue
V
\
AC240V
AC400V
AC400V
Rated operational current
Ie
A
\
250
400
630
Conventional thermal current
Ith
A
\
250
400
630
Rated limited short-circuit current
Icw
KA
\
16
16
16
Rated insulation voltage
Ui
V
\
1000
1000
1000
Rated impulse withstand voltage
Uimp
KV
\
12
12
12
Use grade
\
AC-22B
AC-22B
AC-22B
Common parameters
Rated frequency
HZ
50/60
50/60
50/60
50/60
Pole
3
3
3
3
Rated making capacity
A
10Ie
Rated breaking capacity
A
8Ie
Weight
kg
1.66
8.64
8.64
9.42
Fuse
Size (RT16\NT\NH)
IEC60269-2, GB13539.2
00
1
2
3
Operating current
In
A
160
250
400
630
Power Consumption
P
W
12
18
28
40
Mechanism
Mechanical life
times
1400
1400
800
800
Busbar spacing
mm
100
185
185
185
Protection
Front
ON
IP20
IP20
IP20
IP20
OFF
IP30
IP30
IP30
IP30
Others
Electronic fuse monitor (EFM)
Can be added
Can be added
Can be added
Can be added
ON-OFF signal feedback (micro switch)
Can be added
Can be added
Can be added
Can be added
Working conditions
Temperature
℃
-5~+55
Working mode
Continuous work
Operation
Handle
Installation Mode
Vertical
Altitude
m
≤2000
Pollution level
3
Overvoltage Grade
Ⅲ
Ⅳ
The relationship between the switch and the fuse link
| | | |
| --- | --- | --- |
| Conventional thermal current Ith | Fuse link code | Rated current of fuse link (A) |
| 160A | NT00 | 10, 16, 25, 32, 40, 50, 63, 80, 100, 125, 160 |
| 250A | NT3 | 200, 250 |
| 400A | NT3 | 315, 355, 400 |
| 630A | NT3 | 425, 500, 630 |
Note: NT3-200, 250A fuse is non-standard, please contact our company to order or customize.
Outline and Installation Dimensions
Outline and Installation Dimensions of HG2B-160~630A In-line Fuse Switch Disconnector
Model
A
B
C
D
h
a
HG2B-160
Three-phase
448
49
120
205
50
100
With copper
448
49
120
205
50
185
Single-phase
650
49
150
230
90
185
HG2B-250, 400, 630
Three-phase
764
98
195
457
105
185
Single-phase
764
98
195
300
105
185
view and download
| | | | | |
| --- | --- | --- | --- | --- |
| File name(Click to view) | File type | file size | View times | Click to download |
Product related news
| | | | | |
| --- | --- | --- | --- | --- |
| News title | Promulgator | Release time | View times | Click to read |