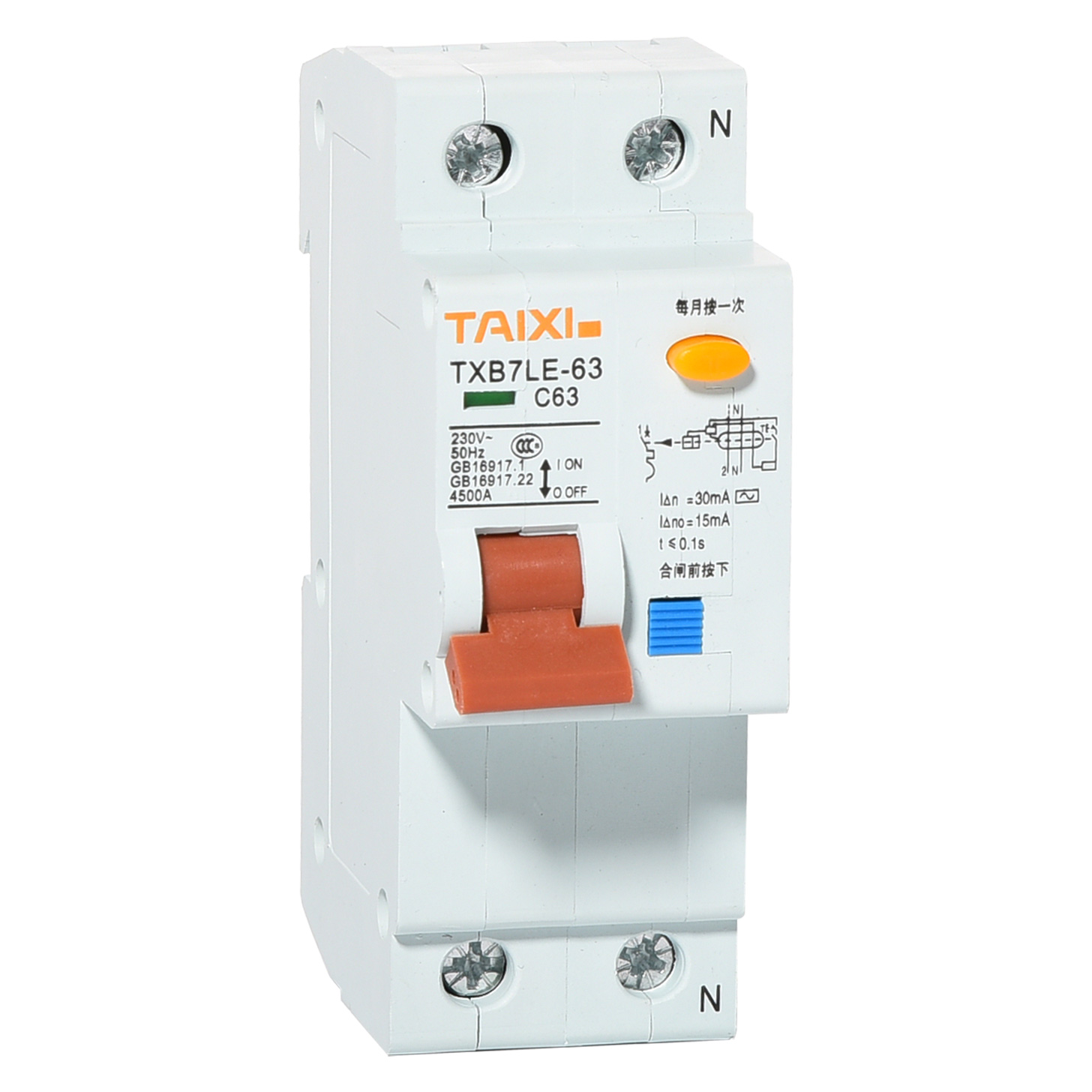 TXD7-63 Residual Current Circuit Breaker
Residual Current Circuit Breaker | RCCB-RCBO
Parameters

Details

Size&weight

Related

Video

Message
SCOPE OF APPLICATION
TXD7-63 Residual Current Circuit Breakers With Overload Protector are new earth leakage Circuit Breakers MCB which have been innovated, researched and developed by the company using rich production experience and international cutting-edge technology. The earth leakage Circuit Breakers have protection function of overload, short circuit, residual leakage current action, current limiting and other functions, and with international high-tech products. Products with high operating performance are suitable for the line with AC 50/60Hz, rated voltage of single-pole and two-wire, two poles for, 230V, three poles, four poles for 400V and rated current of 63A. When the leakage current from the circuit equipment or grid exceeds the specified value, residual current operated circuit breaker can cut off trouble power quickly in a very short time to protect personal and electrical equipment. The earth leakage circuit breaker can protect overload and short-circuit of the circuit or motor, it can also be converted and started infrequently under normal circumstances. The earth leakage circuit breakers meet the standards of GB16917.1-2003 and IEC61009-1, the product obtains design the national patent certificate.


STRUCTURE CHARACTERISTICS
TXD7-63 series new leakage circuit breakers (earth leakage circuit breaker) is designed based on the leakage tripping device accessories and TXB7N-63 circuit breaker with a reduced design, 2P / 3P / 4P leakage are narrower than ordinary DZ47LE circuit breaker, at the same time it maintain the same current characteristics as the TXB7N, its mechanical assembly can be completed by the enterprise in the factory, or in the field. Leakage trip characteristic parameters set by the factory, the user can not adjust, can not open the leakage release to avoid affecting performance. Frame rated current of leakage release is 63A, can be connected to the wire of 25mm².
The earth leakage circuit breaker has an indication device which is used for indicating the leakage action. The leakage circuit breaker can be closed only after the indication device has been reset. And it has the test device with a self-reset button, press the button, the internal circuit generates an analog residual current to make circuit breaker break. The test device shall be tested periodically, once a month.


NORMAL OPERATING CONDITIONS AND INSTALLATION CONDITIONS
◆Ambient air temperature: -5℃~40℃, and average temperature in 24h below +35℃.
◆Altitude: The altitude of installation site does not exceed 2000m.
◆ Atmospheric conditions: The location of the air relative humidity in the highest temperature + 40℃ for not more than 50%; In the low temperature can have higher relative humidity. For example, + 20℃ for 90% .
◆Installation categories: Ⅱ, Ⅲ level.
◆pollution level: 2.
◆Installation: mounted on the TH35-7 steel rail.
◆Installation conditions: The external magnetic field in the vicinity of the circuit breaker installation site does not exceed 5 times of the geomagnetic field in any direction; Residual current operated circuit breakers should be installed vertically; Handle-up means power-on; Installation site without significant impact and vibration.
◆Wiring method: tighten the wiring with screws.


MAIN PARAMETERS AND TECHNICAL PERFORMANCE
Rated Current
6A,10A,16A,25A,32A,40A,50A,63A
Rated residual operated current I△n
230V AC
According to the poles and current loop
2P: two-poles residual current operated circuit breaker;
3P: three-poles residual current operated circuit breaker;
4P: four-poles residual current operated circuit breaker;
According to the characteristics of instantaneous tripping
C type (5 ~ 10) In, D type (10 ~ 16) In.
Rated voltage Un (V)
two-poles for 230V; three-poles, four poles for 400V;
Rated short-circuit capacity Icn (A)
6000 (C6 ~ C40); 4500 (C50, C63, D6 ~ D63);
Rated residual making and breaking capacity 6000 I △m (A);
Rated residual non-operating current I△no; 0.5I△n;


MAIN TECHNICAL PARAMETERS
Rated voltage
Ue(V)
Pole(P)
Frame rated
current
lnm(A)
Rated current
(A)
Rated leakage
action current
(mA)
Rated leakage
non-operating
current(mA)
Rated leakage
breaking time
(s)
Rated short-
circuit breaking
capacitylcn(
230
2
32
6、10、16、
20、25、32
30、50
15 、 25
≤0.1
6000
400
3
4
230
2
63
6、10、16、
20、25、32、
40、50、63
30、50
15 、 25
≤0.1
4000
400
3
4
Test current
Rated current
Set time
Prospective
result
Initial state
Remark
1.13ln
All value
t≥1h
Non tripping
Cold
The current rise steadily to
a fixed value within 5S
1.45ln
All value
t<1h
Tripping
Hot
2.55ln
All value
1<t<60s
Tripping
Cold
Close the auxiliary switch to turn on the power
5ln
All value
t≥0.1s
Non tripping
Cold
Close the auxiliary switch to turn on the power
10ln
All value
t<0.1s
Tripping
Cold
Close the auxiliary switch to turn on the power


TRIPPING CHARACTERISTIC CURVE -- C TYPE



OUTLINE AND INSTALLATION DIMENSIONS

view and download
| | | | | |
| --- | --- | --- | --- | --- |
| File name(Click to view) | File type | file size | View times | Click to download |
Product related news
| | | | | |
| --- | --- | --- | --- | --- |
| News title | Promulgator | Release time | View times | Click to read |