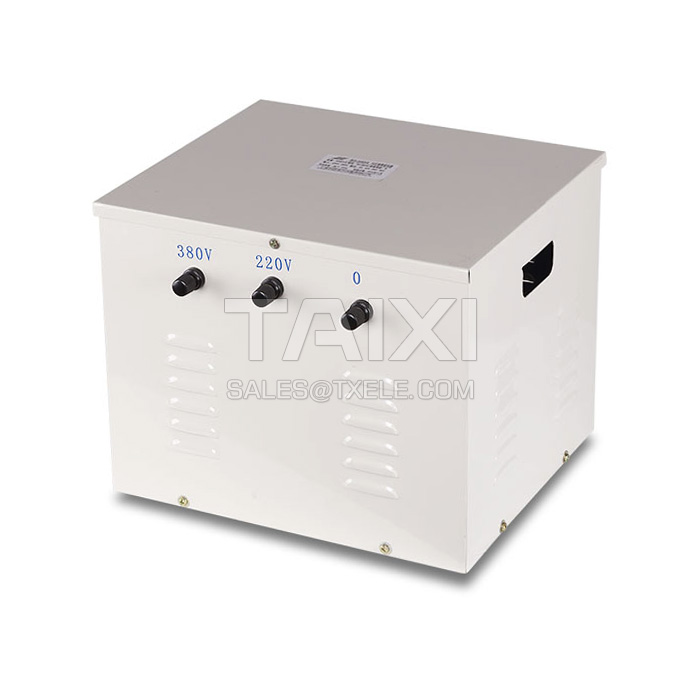 JMB Transformer-220 to 24/12 Volt
Transformer
Parameters

Details

Size&weight

Related

Video

Message
Product Overview
JMB lighting transformer (220 to 24 Volt transformer) is suitable for the circuit of AC 50Hz, voltage 1500V and below, as the local lighting power supply for machine tools and other equipment. JMB series transformer (220 to 12 Volt transformer) is made up of BK series transformers(220 to 24 Volt transformer) and protective shell. There are terminals posts for input power and load connection on both sides of the shell, and grounding screws for grounding. The lighting transformer(220 to 24 Volt transformer) is composed of BK-50, BK-100 control transformer, main switch and protective shell, and the fuse is installed on the main switch to protect lighting circuit, the power supply is introduced from the dust-proof film at one end of the main switch, and turn on and off light by the main switch.
220 to 24 Volt transformer Conform to the standard: Q/ZT 258.
Model and meaning
Normal working conditions and installation conditions
The 220 to 24 Volt transformer can work reliably under the following environmental conditions.
The altitude is not more than 2000m.
The upper limit of ambient air temperature is 40°C, and the lower limit is -5°C (when it needs to be used at higher than 40°C or below -5°C, it is necessary to specify the special order when ordering).
When the maximum temperature is 40°C, the relative humidity is not more than 50%, and high relative humidity can be allowed at a lower temperature, such as 90% at 20°C. Special measures should be taken for the occasional condensation due to temperature change.
There is no corrosive metal or harmful gas or dust that destroys insulation in the ambient air. During use, the transformer must not be corroded by water, rain or snow.
The power supply voltage waveform is similar to the sine wave.
Outline and installation dimensions

Model
Primary voltage (V)
Secondary voltage (V)
Dimensions
Bmax
Dmax
Emax
JMB-25
220/380
Or according to user needs
6/12/24/36/110/ 127/220/380
Or according to user needs
148
165
125
JMB-50
148
165
125
JMB-100
148
165
125
JMB-150
165
175
135
JMB-200
165
175
135
JMB-250
178
210
155
JMB-300
178
210
155
JMB-400
205
245
175
JMB-500
205
245
175
JMB-700
230
295
185
JMB-1000
230
295
185
JMB-1500
325
380
280
JMB-2000
325
380
280
JMB-3000
325
380
310
JMB-5000
365
405
315
JMB-6000
530
470
610
JMB-7000
530
470
610
JMB-8000
530
470
610
JMB-10k
530
470
610
JMB-15k
570
510
710
JMB-20k
570
510
710
Ordering Information
Product Name: Lighting transformer 220 to 24 Volt transformer .
Product model: JMB-1000 220 to 12 Volt transformer.
Output capacity: 1000VA.
Frequency: 50Hz.
Rated input voltage: 380V.
Rated output voltage and output voltage capacity of each group: 110V (800VA) 36V (200VA).
If an isolation shield is needed between the input and output windings, please specify it when ordering.
Keywords:
Industrial Control Transformers
view and download
| | | | | |
| --- | --- | --- | --- | --- |
| File name(Click to view) | File type | file size | View times | Click to download |
Product related news
| | | | | |
| --- | --- | --- | --- | --- |
| News title | Promulgator | Release time | View times | Click to read |