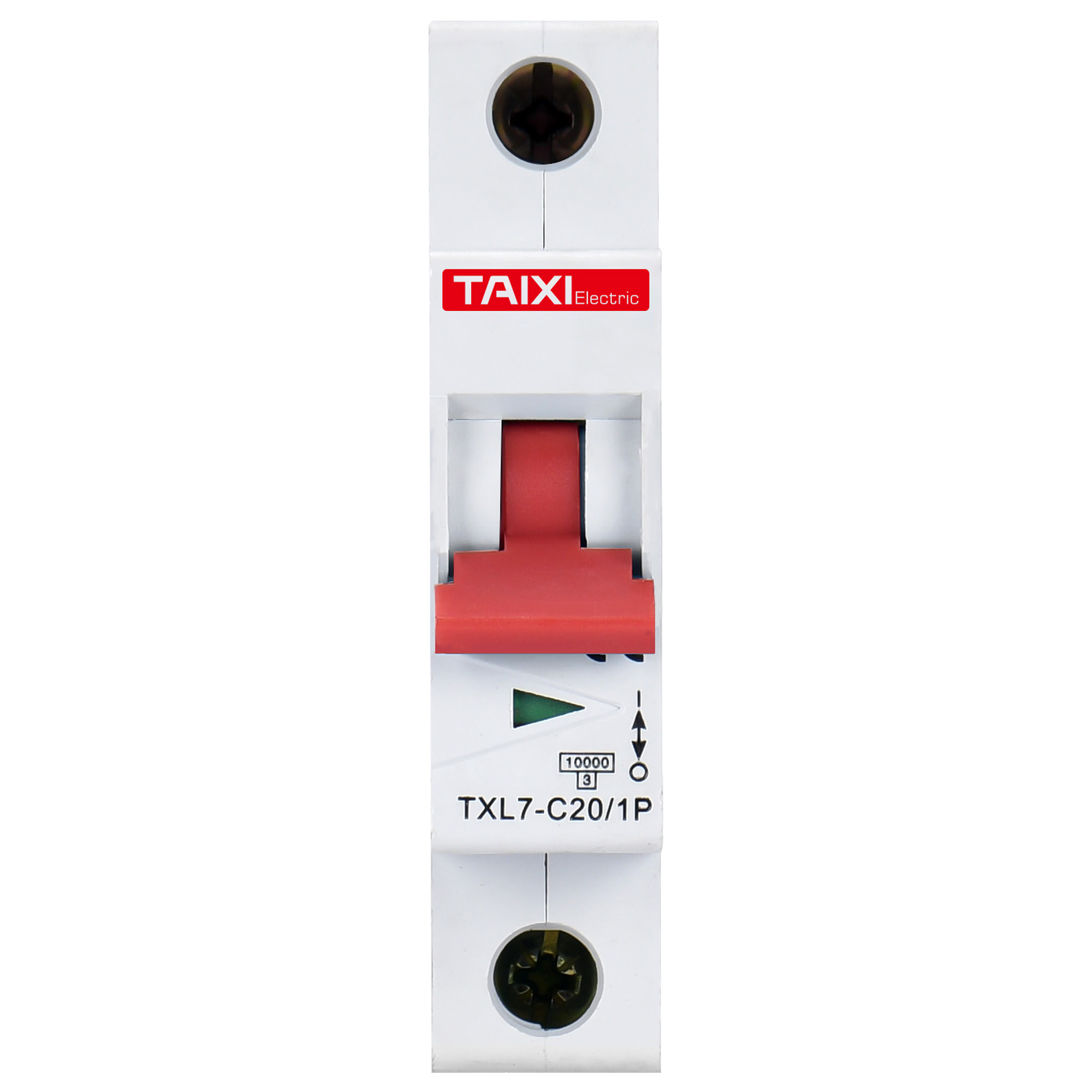 TXL7-63 Circuit Breaker (10KA MCBs)
Miniature Circuit Breaker | MCB
Parameters

Details

Size&weight

Related

Video

Message
SCOPE OF APPLICATION
TXL7-63 Miniature Circuit Breaker (10KA Miniature Circuit Breaker), mainly used for protection distribution lines of AC 50Hz / 60Hz, rated voltage of 110V, 230V(220V), 400V (380V), rated current of 1A, 3A, 6A, 10A, 16A, 20A, 25A, 32A, 40A, 50A, 60A and 63A, rated short-circuit breaking capacity is 10KA or below, and used for the lines of not frequent making, breaking and conversion, with overload, short circuit protection. At the same time, the 10KA MCB has a strong auxiliary function modules, such as auxiliary contacts, indication contacts with alarm, shunt release, undervoltage release remote trip control and other modules.
TXL7-63 Miniature Circuit Breaker (10KA MCB) complies with standards of GB10963.1, IEC60898-1 standard.
NORMAL OPERATING AND INSTALLATION CONDITIONS
The upper limit of ambient air temperature shall not exceed +40°C, the lower limit shall not be lower than -5°C, and the 24-hour average temperature shall not exceed +35°C.
The altitude of the installation site should not exceed 2000m.
The relative humidity of the atmosphere does not exceed 50% when the ambient air temperature is +40°C. Higher relative humidity is allowed at lower temperatures. Special measures should be taken for condensation that occasionally occurs on the surface of the product due to temperature changes. .
Pollution level: Class II.
Installation conditions: Install in a place without significant shock and vibration, and in a medium without explosion hazard.
Installation method: use TH35-7.5 mounting rail to install.
Installation category: II, III.
MAIN TECHNICAL PARAMETERS
Rated Current
6A,10A,16A,25A,32A,40A,50A,63A
Poles
1P, 2P, 3P, 4P
Rated Voltage Ue
230V/240V
Rated Impulse Withstand Voltage(1.2/50) Uimp
6kV
Dielectric Test Voltage At And Ind. Freq.For 1min
2kV
Protection Class
IP20
Rated Short-circuit Breaking Capacity
10000A
Thermo-Magnetic Release Characteristic
B-Curve (3-5ln),C-Curve (5-10ln),D-Curve (10-14ln)
Electrical Life
2000
Mechanical Life
10000
Reference Temperature For Setting Of Thermal Element
35°C
Ambient Temperature
-5°C~+40°C
Terminal Connection Type
Phillips Screws
Adapter Cable
6-63A 1-25mm216-3AWG
Tightening Torque
3.0N.M
Combination With Accessories Auxilary Contact
Auxillary Contact
Yes
Alarm Contact
Yes
Shunt Release
Yes
Under Voltage Release
Yes
TEMPERATURE COMPENSATION
When the ambient temperature is not a benchmark of 30 degrees , the reference correction factor is as folows
| | | | | | | | | | |
| --- | --- | --- | --- | --- | --- | --- | --- | --- | --- |
| Ambient Temperature | -20℃ | -10℃ | 0℃ | 10℃ | 20℃ | 30℃ | 40℃ | 50℃ | 60℃ |
| Current Correction Coefficient | 1.25 | 1.2 | 1.15 | 1.10 | 1.05 | 1.00 | 0.95 | 0.90 | 0.85 |
Over-current Protection Characteristics Ambient Temperature 30°C~35°C
NO.
Trip type
Rated Current In
Test Current A
Appointed time
Expected result
Initial state
1
C、D
All values
1.13ln
t≤1h
Non tripping
Cold
2
C、D
All values
1.45ln
t<1h
Tripping
Immidiately after
the last test
3
C、D
≤32
2.55ln
s
Tripping
Cold
>32
1s
4
C
All values
5ln
t≤0.1s
Non tripping
Cold
D
10ln
5
C
All values
10ln
t≤0.1s
Tripping
Cold
D
20ln
| | | | |
| --- | --- | --- | --- |
| Trip Type | Rated Current A | Rated Short-circuit Breaking Capacity A | COSΦ |
| C、D | 6≤ln≤63 | 10000 | 0.45-0.50 |
| | |
| --- | --- |
| Rated current (A) | Minimum Adapter Copper Wire |
| 6 | 1 MM2/17AWG |
| 10 | 1.5 MM2/16AWG |
| 16 | 1.5 MM2/16AWG |
| 25 | 2.5 MM2/13AWG |
| 32 | 4 MM2/11AWG |
| 40 | 6 MM2/10AWG |
| 50 | 10 MM2/7AWG |
| 63 | 10MM2/7AWG |


TRIPPING CHARACTERISTIC CURVE -- B C D TYPE



SHAPE AND INSTALLATION DIMENSIONS

view and download
| | | | | |
| --- | --- | --- | --- | --- |
| File name(Click to view) | File type | file size | View times | Click to download |
Product related news
| | | | | |
| --- | --- | --- | --- | --- |
| News title | Promulgator | Release time | View times | Click to read |